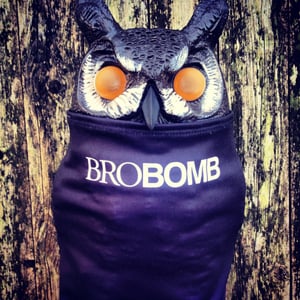 $

20.00
This thin, stretchy polyester facemask is as black as night. That is why Satan' pet owl, Archibold (pictured), has been rocking it whenever he ventures into the night to feast on innocent souls. "BroBomb" is readable all the way across the mouth when the mask is pulled up to your goggles. Open your mouth, drop a 'Bomb.
Made by Phunkshun Wear featuring UPF 50 sun protection, made especially to protect gingers from snow glare. One size should fit everyone barring Lucifer, Prince of the Night. His evil face is huge.
Now down from $20 to $13, THIS WEEK ONLY!